What would you do if you inherited a house on the other side of the world? For Mitch Tyse the question was easy. Let the adventure begin!
Mitch Tyse (23) is a new student here at NHH. He has begun his master's degree after his dad inherited a house from his grandparents. Now he's ready for both studying and renovating his grandparent's old house. I met with Mitch at the "forest house" as the neighbourhood kids call it to get to know Mitch and his background better. And after a tour of the 4-story house, I got to know Tyse a bit better.
Hindered by the pandemic
– So, Mitch, how did you end up here?
Mitch talks about the demanding process of going to study across the Atlantic Ocean during the pandemic. He was supposed to start last year, but because the borders were closed, he decided to wait a year before starting his Norwegian adventure.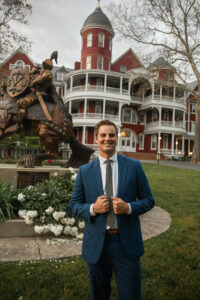 Been here several times
Mitch is not new to Norway and the Bergen weather. He believes that he has been here five times, before his father, who is here for a couple of weeks to help Mitch, jumps in and says four. So, they end up saying that it's at least four times.
– We would come every five years for my granddad's birthday in July. Most times it was rainy, but sometimes it was beautiful. 
Not new to rebuild a house
Renovating a house on your own can for a lot of people seem like a quite ambitious project, but luckily for Mitch he has some carpenter experience.
– My dad and I completely remodelled our house in Colorado before we sold it. So that was quite the project which I worked on for nine months. Everything from knocking down walls, redoing the garden and replacing nearly everything.
Now that I've gotten to know Mitch better, we start talking about the house.
– What kind of shape was the house when you came over?
– If you take into consideration that it was built in 1914 the house was in great shape when we got here. My grandfather renovated it quite a lot in 1980 but it has remained untouched since then. The main thing is that it was completely full of junk. The attic was filled with old papers and ancient appliances and furniture. The basement was dusty, dirty, and similarly full of old things.
– How's the house going to look when you are done? Frat house or more of a family vibe?
Mitch laughs for a bit before he answers.
– The house is definitely going to be more of a family style. After all, it is my dad's house. People have been making jokes to me about making it a frat house. But that will certainly not be happening! I'm hoping to find roommates that will help me keep it nice and clean.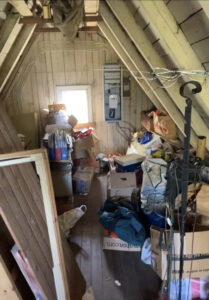 Mitch is not too sentimental about leaving his American life behind:
– I love my hometown and have lots of great friends and family, but when the opportunity came up, I couldn't say no to this adventure. One other reason is that I want to reconnect with my family history. Also, the state of the United States is a mess so that made it easier. So, it wasn't hard at all.
Not much spare time for student life
With rebuilding a house that his great-great grandfather built, there has not been much time for normal student life.
– It's been a good start here, but with the pandemic going on some of my classes are online more than I hoped, so I don't spend as much time on campus that I want. Also working on the house has taken a lot of time away from my student life. So, I'm looking forward to being done with this so that I can focus more on having fun and school and other stuff.
– What's the plan after NHH?
– There seems to be a lot of companies within the environmental industries here in Norway. So, I would prefer to stay here in Bergen or maybe Oslo. Two years is not enough time here and I don't want to go back so soon. Home in Colorado will always be there, so I'm not in a rush to go back.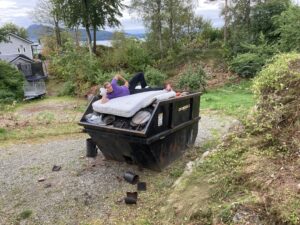 – And finally, what is the long-term plan for the house?
– Long term we hope to put more money into renovating it. I could see myself staying here long term. It's possible to make it an Airbnb and then my parents could come and live here in the summers. We don't know quite what we'll do but we are sure that it will be staying in the family. Our house means a lot to us.