TEDx Bergen 2018 took place in the Aula at NHH in Bergen on 22 September 2018, lasting from 11 am to around 4.30 pm.
Bram Timmermans, associate professor at the Department of Strategy and Management at NHH, moderated the whole TEDx event in an entertaining, humorous, but also thought-provoking way. In between the talks, he created links between the different topics and added some personal thoughts as well. In his own short speech, he focussed especially on Bergen as a place of innovation and entrepreneurship. Furthermore, he stressed that the future in general is both timely and timeless and the aim of the event was to discuss ideas for handling future challenges.
The TED Videos functioned as stand-alone TED talks and discussed various topics, for instance the future impact of digitalisation and robotization on the labour market or the abilities of computers to read the one's mind.

Sepehr Mousavi: Growing Challenges and Sustainability
Sepehr Mousavi, a sustainability strategist and smart city leader, opened the TEDx talks with demonstrating general future challenges with focus on the topics climate change, population growth and urbanisation.
Regarding to climate change, he warned against the consequences of global warming and called upon for immediate countermeasures before time would run out. Furthermore, he argued the impact of future population growth in combination with the trend to urbanisation on existing and emerging cities, especially in Africa and East Asia. Stating that the insufficient infrastructure of those cities in the least developed countries would lead to increasing numbers of refugees and brain drain, Sepehr stressed the need for smart cities to tackle these problems. Finally, he appealed to our responsibility to take action because of historical and ethical reasons.
Sepehr mentioned important current and future topics, affecting everyone at least indirectly, and highlighted his arguments with relevant maps and statistics. Unfortunately, he focussed only on the reasons for the necessity for smart cities and did not explain the concept or features of those.

Tone-Marie Wahlstrøm: Innovation and Intrapreneurship in Established Companies
Tone-Marie, financial economist and innovation hub leader, discussed the topics innovations and intrapreneurship in the framework of her presentation.
She explained the difference between exploring and exploiting innovations and pointed out the need for both types. Afterwards, Tone-Marie highlighted the alternative and risk-averse opportunity to create innovations in within the scope of intrapreneurship within a company instead of classical entrepreneurship. Related to that, she stressed the importance of diversity within an intrapreneurial team and concluded that companies should create possibilities for intrapreneurship to unleash the employees' potentials.
Tone-Marie presented the concept of intrapreneurship comprehensibly and demonstrated the importance of innovations. However, illustrating the opportunities with a real business case example would have been useful to make the topic more tangible for the audience.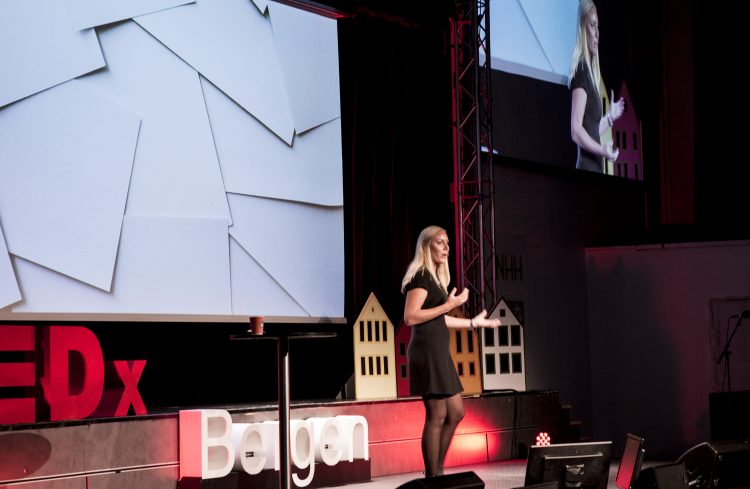 Eirik Eidem: Failure Is the Key to Success
Eirik Eidem, a navy officer, consultant and engineer, talked about the importance of failures and the appropriate treatment of them.
He started his presentation with personal insights into his military career and acknowledged several essential mistakes he made during his trainings. Nevertheless, with his final success as becoming a commanding naval officer, he illustrated that failures can be valuable as well and if one is ambitious enough, they can even be the key to success. Afterwards, Eirik Eidem showed classical examples of initial failures leading to enormous success, such as the invention of the light bulb or the airplane. He highlighted that the right way to handle failures is to fail safely (e.g. with design sprints) and to share the failure, so that others can learn from it as well. In his opinion, a general change of behaviour is required to gain success out of failing, learning and improving.Conclusion
Eirik Eidem' presentation was an entertaining story-telling with pointing out the key message that we should overthink the way we handle failures in future, underlined with several examples. Furthermore, he showed the importance of the appropriate treatment of failures as a timeless topic, related to the personal development but also the progress within a company.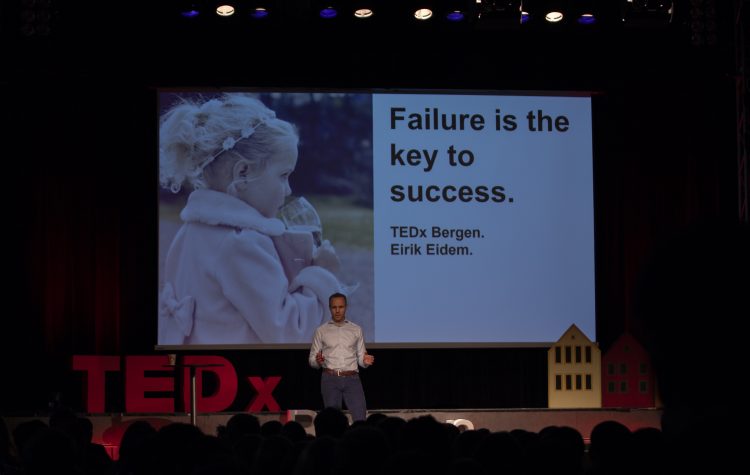 Babou Olengha-Aaby: You Can Not Be, What You Do Not Seek
Babou Olengha-Aaby, Founder & CEO of The Next Billion, highlighted the gender-inequality related to entrepreneurship and pointed out the potential of strengthening female entrepreneurs.
At first, she compared the inequality regarding to venture capital investments in companies led by women. However, she stressed that it is not about funding but more about finding female entrepreneurs and argued that women are discriminated in different kinds of media sources because just one quarter of their reports focus on women. According to Babou Olengha-Aaby, less presence of women in media will lead to less recognition of successful women. She warned against losing out and highlighted that McKinsey found that a global improvement of parity could lead to an additional global GDP growth in the amount of 12 trillion USD. Contributing to that, she created an online platform for female entrepreneurs.
Babou Olengha-Aaby enthusiastically talked about an important topic, highlighting current gender problems related to female founders and conveyed some awareness about that issue. Unfortunately, she used some misleading facts, for example that "about 11 percent of venture capital in Europe is provided to female founders". Stating the total relation of founders regarded to gender in Europe as well would have added more information value to that number. In addition, she did not mention the historical progress and long-term trends but only the current numbers regarding to disadvantages of female entrepreneurs.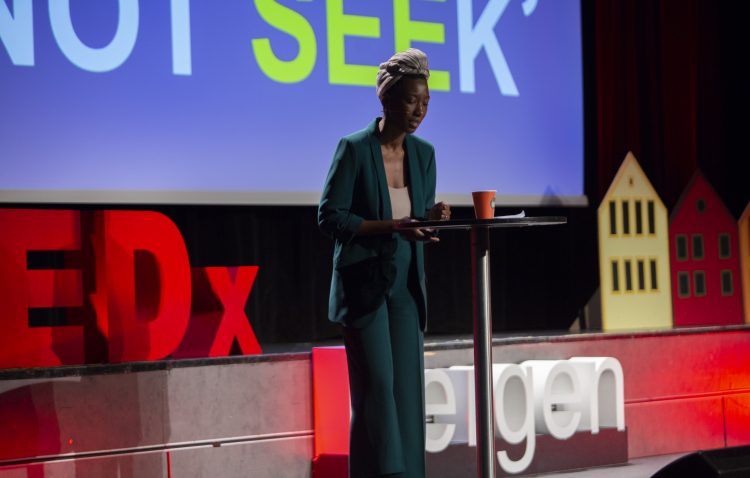 Carsten Hentrich & Michael Pachmajer: How to Find Orientation in an Uncertain World
Carsten Hentrich and Michael Pachmajer, directors at PwC's consulting branch, talked about current and future challenges for small and medium-sized enterprises (SMEs).
As an example for a SME being confronted with technological change, they illustrated a business case with Hans, a fictional CEO of a traditional small company, elaborating possible actions towards a more modern solution. In that framework, Carsten Hentrich and Michael Pachmajer highlighted the importance of both, cultural and structural changes.
According to them, new business solutions should provide an orientation in an uncertain world with considering the following three steps: At first the cultural and structural changes should be identified, then options to tackle those issues have to be found and finally, options need to be chosen and necessary capabilities have to be created.
Carsten Hentrich and Michael Pachmajer professionally presented mainly a guidance for businesses to tackle circumstantial changes. During their talk, which reminded one more of a presentation of a business case, they frequently used technical business terms, which unfortunately often remained unexplained.  Therefore, the talk was hard to follow and without an outstanding message.

Øyvind Christian Rohn: Future of Energy
Øyvind Christian Rohn, Co-founder of Ocean Sun, presented his company's alternative solution to generate sustainable green power.
He argued that solar power is currently the cheapest possibility of sustainable energy generation and besides that, its demand will also increase because of an expected rising demand for energy around the equator and the enormous availability of solar there. Explaining the approach of Ocean Sun to use floating solar panels, Øyvind Christian Rohn highlighted that their patented solution would have an advantage in efficiency up to 10 percent towards the competitors with cooling the panels by water instead of air. In addition, high transmission costs and energy losses could be avoided compared to installations on the land area. According to him, the estimated market would account for about 1 TW and potential locations could be water areas next to cities, hydro power plants or off-grid near fish farms and islands.
Øyvind Christian Rohn's passionate talk provided an introduction about Ocean Sun's innovative solution to generate renewable energy by floating solar panels on water areas. However, taking into account the estimated global market in the amount of 1 TW, it becomes clear that their solution could just play a minor role in the future energy generation mix.
In addition, it is at least questionable whether local residents would agree with covering the sea in front of the cities with solar panels. Nevertheless, the company's approach would contribute to a more sustainable energy supply and seems to be cost-efficient, which is why it is worthy of support.

Patrik Wincent: Digital Zombie
Patrik Wincent, authorized therapist, coach and author, talked about reasons for society's current intense social media behaviour and consequences of that. He stated that growing addiction to social media, partly caused by the invention of smartphones, would have led to more traffic accidents and a different way of growing up for children.
Furthermore, he pointed out the similarities between slot machines and social media because as parts of the attention economy both use intended sounds related to a reward system, resulting in a release of dopamine. According to Patrik Wincent, people pick up their phone in between 150 and 300 times per day, leading to today's preference of shortcuts along with a lack of creativity, cyberslacking and thus a loss of economic productivity, as well as more multitasking with the consequence of inefficiency. He encouraged us to keep our focus on just one task at the same time and advocated for a post digital age with prioritizing people over technology.
Patrik Wincent's captivating presentation of a relevant problem of today's society conveyed the clear message that we should get aware of the extent of our daily smartphone usage and its consequences and inspired to reconsider the own social media behaviour.

Anne Beate Hovind: Future Library and Artwork (Cathedral Thinking and Grounded Hope
Anne Beate Hovind, project director of Bjørvika Utvikling's art programme in Oslo, presented her current arts projects and talked about the human alienation from nature. She declared that one of the main aims of arts should be the reconnection with nature, stating the opera's in Oslo as an example of special physical experience. In order to support the goal to create more awareness for the natural roots, Anne Beate Hovind talked about her projects related to urban farming and cathedral thinking. She explained the latter as the execution of projects over generations, names for instance her current 100-years project of planting 1,000 trees near Oslo.
Altogether she confronted the audience with their own mortality as well as their disconnection with nature and therefore, she promoted physical experience of nature as a requirement to take the right future decisions.Anne Beate Hovind's passionate talk provoked thoughts about the development of the humans' relation to their roots and illustrated the value and necessity of starting cross-generational projects, especially related to nature.
As detailly described above, several important future challenges have been discussed in the framework of the TEDx talks and TED videos. Altogether, the TEDxBergen 2018 event provided interesting and informative insights into various future topics and the TEDx team's organisational effort cared for a valuable experience for the attendees.