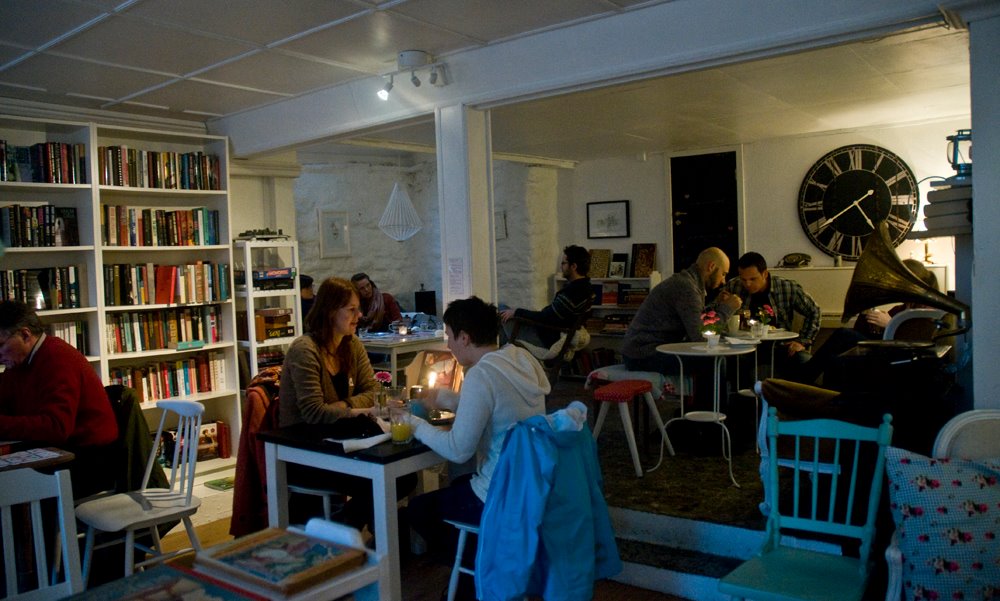 Thinking about my last few weeks in Bergen, I passed the various people I've met and the experiences I got through them. A rather incoherent story tried to take its place, after which I realized the different moments were hard to connect. The variety of people, all the places that seemed nothing alike, and even my days at school, all seemed like individual bedtime stories. Yet, one constant factor quickly appeared throughout the days spent here in Norway. The place I set foot on the first day I entered my new hometown: Bokcafé Krok og Krinkel.
And as I took a sip of my espresso, which always got followed with either one or two cups of tea (dependent on how much momentum I had created to stay a bit longer), I felt like it was definitely worth mentioning. Hoping that it will create some extra clientele for the place, that I will meet some of you there in the coming weeks, but mainly because I want you to experience what I do there. Not to give you an obligation to go there, just an advice to keep in mind when you're looking for a cosy place to hide for the rain.
The book café, situated on Lille Øvregaten 14, is tied together with the cutest and most amazing details. The collection of books literary speaks to your imagination, and as a foreigner it creates a huge eager to learn the language. It is, therefore, beautiful to see the appreciation of the visitors who do master the Norwegian language as they open yet another book picked from anywhere around the place. Of course Krok of Krinkel isn't unique in this, and it has to offer more than just a good book.
As the lovely waitress, who even seemed to recognise me besides from her job, switches the vinyl from Lou Reed to Edith Piaf, the musical preferences from those serving you the tasteful espressos and teas is definitely worth the visit. During my first encounter with the café, Zombie's 2013 record 'With Love' floated through the speakers, and from that point on I was sold. With a wide variety of genres displayed on the vinyl present in the store, it's always a moment of excitement when the new vinyl is put on. Together with the reading material, a visit to the book café feels like a lecture in the Norwegian literature and sounds.
As books and music may not be of your interests, I dare you to set foot in the café and not get lost with all the small details present. Ranging from an old radio to a sallow white piano, there is enough visual tension to let your mind drift of for hours. That the binding factor between it all is 'love', something I keep noticing here in Bergen, gets clear when you enter the toilet. Where the speculations about what kind of lovely thing can be found on the toilet might take weird forms, the actual attribute is a rather innocent small blackboard. With a recipe of friendship listed in two simple steps, and consisting of only six ingredients, it is obvious that Krok og Krinkel is all about providing an experience of inner peace. Peace with the surrounding, and peace with yourself.
With an almost fixed weekly visit here, I can return to my inner self for a few hours, and create a serenity that the true introverts among us might be aware of. Without any discredit towards the other amazing bars and cafes in Bergen, I don't mind stating that the Krok og Krinkel is the best place I've been so far in the six weeks that I'm here. And solely functioning as a good advice, I recommend you to visit it while you're here, and enjoy the in- and external tranquillity for a while.