Two international students at NHH, Hugo Poitout and Thomas De Munck, have started Rethinking Economics NHHS to challenge the way economics is taught today.
– There is a new wave in the world and Europe. It says let's look at different methods and different approaches to teaching and thinking about economics, says Hugo Poitout.
The Frenchman got the idea to start Rethinking Economics while reading "Doughnut Economics" by Kate Ratworth.
– It has a good vision and I liked the criticism it put forward. So I thought why not try to share this ideas at NHH?, says Poitout.
Is cofounder Thomas De Munck knew that the network of Rethinking Economics already existed from his home country Belgium.
– I wanted to be part of it but I did not find the time, says De Munck.
When the two guys met at NHH, they saw that the school lacked a student group that discussed economic theories and issues. Therefore they decided to start their own local branch, Rethinking Economics NHHS.
Economics needs different perceptions
Poitout does not believe that the way mainstream economics is taught today is bad in itself but that it needs to be criticised.
– Wherever you go you will have the same course, which is ECON201 and with the same basics. But if you take History in the US, France or Norway, you will not have the same history because there are different perceptions of history.
– I think we need that in economics. Different perceptions of economics and different approaches.
De Munck believes that economics today is too narrowly focused.
– Currently we are only focusing on the neoclassical approach. We would like to raise awareness about this and show that there are also other ways of looking at economics.
Wants a broader approach at NHH
Poitout and De Munck see educating the public as part of the vision of Rethinking Economics.
– By having debates and discussions we want new approaches to economics to be exposed to both economists and non-economists, says Poitout.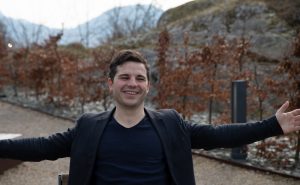 Him and De Munck are not dissatisfied with how economics is taught at NHH but they would like to see a broader approach.
– There are courses given in environmental economics at NHH. They are great and you understand a lot and learn a lot. But why not look at ecological economics and have courses outside the mainstream as well, says Poitout.
He applauds behavioural economics at NHH, which challenges the fundamental assumptions of mainstream economics, such as perfect rationality.
Organises debates with UiB
Rethinking Economics NHHS organize monthly debates together with the local branch at the University of Bergen that are open to everyone.
– We also have events during the week about specific topics where we invite experts to come and talk for us, says Poitout.
– We want to find a good formula that can attract people and is inline with our vision which is to change the curriculum and educate the public, Poitout explains.
Also read:
Kaffe – studentens beste venn?