The Paris Agreement, signed by 185 countries, came into force in April 2016 and aims to keep the global temperature increase significantly below 2 or at the best to 1.5 degrees Celsius above pre-industrial levels. So far, energy-related greenhouse gas (GHG) emissions have been the main drivers of climate change but are they evolving in accordance with the climate goals?
According to the IPCC, global warming is likely to reach 1.5 degrees Celsius between 2030 and 2052, if it continues to increase at the current rate. For limiting global warming to below 2 degrees Celsius, CO2 emissions are required to decline by about 25 percent by 2030 and reach net zero around 2070. However, UNEP states that the G20 members amongst others will not realize their unconditional Nationally Determined Contribution (NDC) targets for 2030 based on current policies and global GHG emissions show no signs of peaking. Furthermore, if NDC ambitions will not be increased before 2030, exceeding the climate targets is unavoidable (see figure below).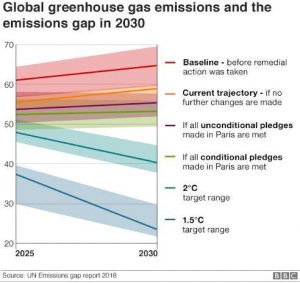 Past and future development of energy-related emissions
In 2017, energy-related CO2 emissions accounted for about 60 percent of the global GHG emissions with the energy supply sector being responsible for the main part. According to the IEA, after three flat years, global energy-related CO2 emissions rose by 1.6 percent in and by 1.7 percent in 2018 to a historic high of 33.1 GtCO2 (see picture). Thanks to renewables and nuclear energy, emissions grew by 25 percent slower than the energy demand in 2018 but still, coal-fired power plants were the largest driver of emission growth. Renewables accounted for 23.9 percent of the global electricity demand in 2017. However, the IPCC states that in 1.5 degrees Celsius pathways with no or limited overshoot, renewables are projected to supply in between 70 and 85 percent of electricity in 2050, whereas gas approximately provides 8 percent and the use of coal would be reduced to close to zero.
Stein Ivar Steinshamn, Professor of Resource and Environmental Economics at NHH, stated in an interview that in the long-term, energy generation would hopefully be emission-free. However, in order to maintain the required baseload, gas- and nuclear-based energy generation will be inevitable in the mid-term due to the intermittency problems of most of the renewables. For this reason, the recent expansion of renewable energy sources such as wind and solar also resulted in an increase of coal demand.
The role of governmental policies in the global energy transition
According to Fatih Birol, Executive Director of the IEA, "over 70 percent of global energy investments will be government-driven and as such the message is clear – the world's energy destiny lies with decisions and policies made by governments." Stein Ivar Steinshamn agrees to the national governments' responsibilities of being the main actors because private institutions would prioritize their economic benefits over environmental concerns. In order to correct the market failure of negative environmental externalities, he prefers quota-solutions over taxes on emissions to ensure a cap on the maximum amount of physical emissions. Additionally, he would not recommend governmental subsidies for renewable energy production but rather for research in technology.
According to the NHH professor, the lack of international progress in achieving the climate goals is caused by the fact that governments have not been prioritizing environmental policies so far. However, he is very positive about the future development on the transition towards renewable and sustainable energy due to expected technological breakthroughs, for instance related to batteries or possibly also in the area of nuclear fusion.
According to the IPCC, 1.5 degrees Celsius pathways with no or limited overshoot include a rapid decline in the carbon intensity of electricity and an increase in electrification of energy end use. That would also cause robust synergies for several UN Sustainable Development Goals (SDG), such as SDG 3 (health), 7 (clean energy), 11 (cities and communities), 12 (responsible consumption and production) and 14 (oceans)
Sources: BBC; IEA; IPCC; UNEP; UNFCCC
Also read:
Kaffe – studentens beste venn?